Why ChipsAway
Convenient - Same day repairs completed in a matter of hours at your home, work or any convenient place that suits you. If you have nowehere where we can carry out the repair we even collect your car from you, repair it at our workshop in Guildford and deliver it back, all in one day and free of charge. (we are insured fully comprehensively to drive any vehicle).
No loss of your car for days or weeks - We carry out most repairs within 1 day, and often within just a few hours
Satisfaction guarantee - We will carry out work to the highest standards, in the majority of cases indistinguishable from bodyshop repair. Our work is covered by a lifetime guarantee* and unlike local independent SMART repairers even if your local ChipsAway specialist is no longer around, ChipsAway can call on one of the other 300 ChipsAway repairers to honour this commitment so you will never be left high and dry.
Cost - Because ChipsAway repair only the damaged area , we pass the paint and labour savings to you. You could save up to 50% on bodyshop costs. Our respray repairs start from just £75 plus VAT
Flexible to your Budget - We appreciate there are times you may not need a repair to appear absolutely perfect, just cosmetically improved (for example when selling a car, or repairing an older vehicle). These are normally significantly cheaper than a full repair. This is why it is important to let us know your intentions for the repair, so that we may tailor a repair most suited to your needs.
Peace of Mind - Chipsaway were the pioneers of smart repairs and have been trading for over 20 years in the UK. ChipsAway have 500 operators in 20 countries worldwide and carry out over 1/2 million repairs a year. Unlike independent 'one man band' SMART repairers our systems have been tested and perfected to achieve the best possible quality of repair every time.
Latest Smart repair technology - ChipsAway are the only smart repair company having access to state of the art Research and Development facilities in the United States. This means ChipsAway are able to continually ensure we are able to stay ahead of the competition, both in terms of product quality and safety compliance and as the largest and most successful company in our field, we can honestly say that our processes and repair technology are market leading
Honest impartial advice - If you have a cosmetic car body repair problem come see us first. If we think your repair is beyond our repair capability, we can help guide you to a company we know and trust that will be able to help you.
Environmentally Friendly - The Chipsaway AquaClear system is fully compliant with EU Legislation Directive 2004/42/CE and contains no Isocyanates, lowering the risk to you and your family. Other specialists may be using systems that contain Isocyanates (toxic additives used in paint designed for bodyshop use only) and emit high levels of VOC's (volatile organic compounds). Chipsaway's AquaClear system has been independently analysed and tested by Pro-Consult Solutions Ltd and has proven to release 92% less VOC than a typical bodyshop repair. See details below.
*Lifetime guarantee is for the life that you own the vehicle. Guarantee is not transferable. To qualify you must register the repair on ChipsAway's main website : www.chipsaway.co.uk/repair-guarantee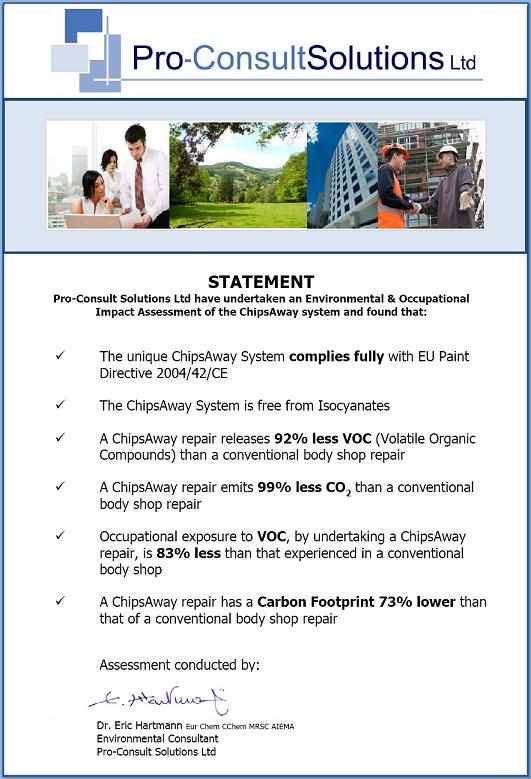 Our Services:


Customer Testimonials
Here are just a few of the many comments received from satisfied customers : Judy Kelly, Land Rover Discovery, Cranleigh Arrived exactly on time. Very friendly and professional - went over how the work was to done. Afterwards, explained how the marks were removed - given there was a scratch...
Read More
---