Testimonials
Here are just a few of the many comments received from satisfied customers :
Judy Kelly, Land Rover Discovery, Cranleigh
Arrived exactly on time. Very friendly and professional - went over how the work was to done. Afterwards, explained how the marks were removed - given there was a scratch from front to rear of the vehicle, the entire damage was gone. This was for a fraction of the price of a respray. This is the second time we have used ChipsAway and I would recommend them to anyone.
------------------------------------------------------------------------------------------------------------
Anthony Weeks, BMW 1 series, Guildford
I had been driving around for ages with a collection of very unsightly scratches on my front wing, having been given crazy estimates by my dealer's bodyshop. Then I remembered hearing recommendations for ChipsAway in Guildford. What an eye-opener! Their price was a fraction of the original estimates and the car genuinely looks as good as new.
------------------------------------------------------------------------------------------------------------
Kim Taylor Peat , Guildford, VW Tiguan

ChipsAway Guildford repaired a significant dent in the driver door of my car. This dent had been caused by another inconsiderate car driver having parked beside me in a car park! ChipsAway did an excellent repair job! I'm very pleased with the quality of work and efficiency of communication whilst the job was in progress. I would recommend ChipsAway Guildford.

-----------------------------------------------------------------------------------------------------------
Mr Elliott, Guildford, Vauxhall Adam
Very professional service. Done on time to an excellent standard. Will use them again.
-----------------------------------------------------------------------------------------------------------
Mr Morcom, Elstead, Land Rover Discovery
Paintless dent removal - great job. You'd never know there had been a dent

-----------------------------------------------------------------------------------------------------------
Joe Hurst, Guildford
Repair to Alfa GTV with paintwork peeling paint on whole of offside quarter panel
Hi Andy.
Just wanted to say thanks for yesterday. Your tech has done a great job, I am both impressed and very happy with the quality of the work and the service,the price and the speed with which it was done. Having the car picked up and dropped off allowed me to get on with my day. I will leave you a five star Google review in the next day or two. See you in a few weeks with my Zoe spider.
---
Alison Bytheway

Highly recommended. Fabulous repair on my fuschia Kia Picanto.
Nasty scrape from Bedford Road car park, once repaired, literally as good as new.
Andy was great, helpful and obliging, staying late so I could get my car after work. Can't recommend highly enough, hopefully won't need ChipsAway again, but if I did, well I would never look any where else. Thank you so much
---
Cindy Dillon in Witley Mercedes SLK
Excelllent job and wonderful pick up and return service.Very competitive prices.
---
Marion in Godalming
Hi Andy, just wanted to thank you for the excellent work on my car, from the estimate , to the finished job on my car, Excellent service, and l wouldn't hesitate to recommend
Kind regards Marion, Godalming .
---
Clare Hammersley Godalming
CHIPSAWAY GUILDFORD - JUST EXCELLENT. I couldn't be happier with the service. Andy was extremely professional, incredibly helpful to the point where he actually dropped my car off home for me as he had the time, which made my life so much easier. The quality of work is superb and cost is very good.
I would start here before going to a garage! Great job thanks so much Andy!
---
Marion Nugent, Thursley
Dear Andy, thank you for fabulous repair on my car, l was so impressed, not just the repair, but excellent customer service, l would without a doubt recommend you and your team, many thanks Marion.
---
Dr Frank Green Milford
Courteous, punctual, efficient and well priced. What more could you ask for? Well, there is a After Care Advice leaflet too. It all adds up to a fine service.
---
Mr Shattock, Guildford
Thanks Andy for an excellent job on sorting out the scratches on my Mazda. You were so easy to work with, your collection services is great and the finished job is fantastic - looks brand new.
Before repair
Dented wing / scratched bumper After repair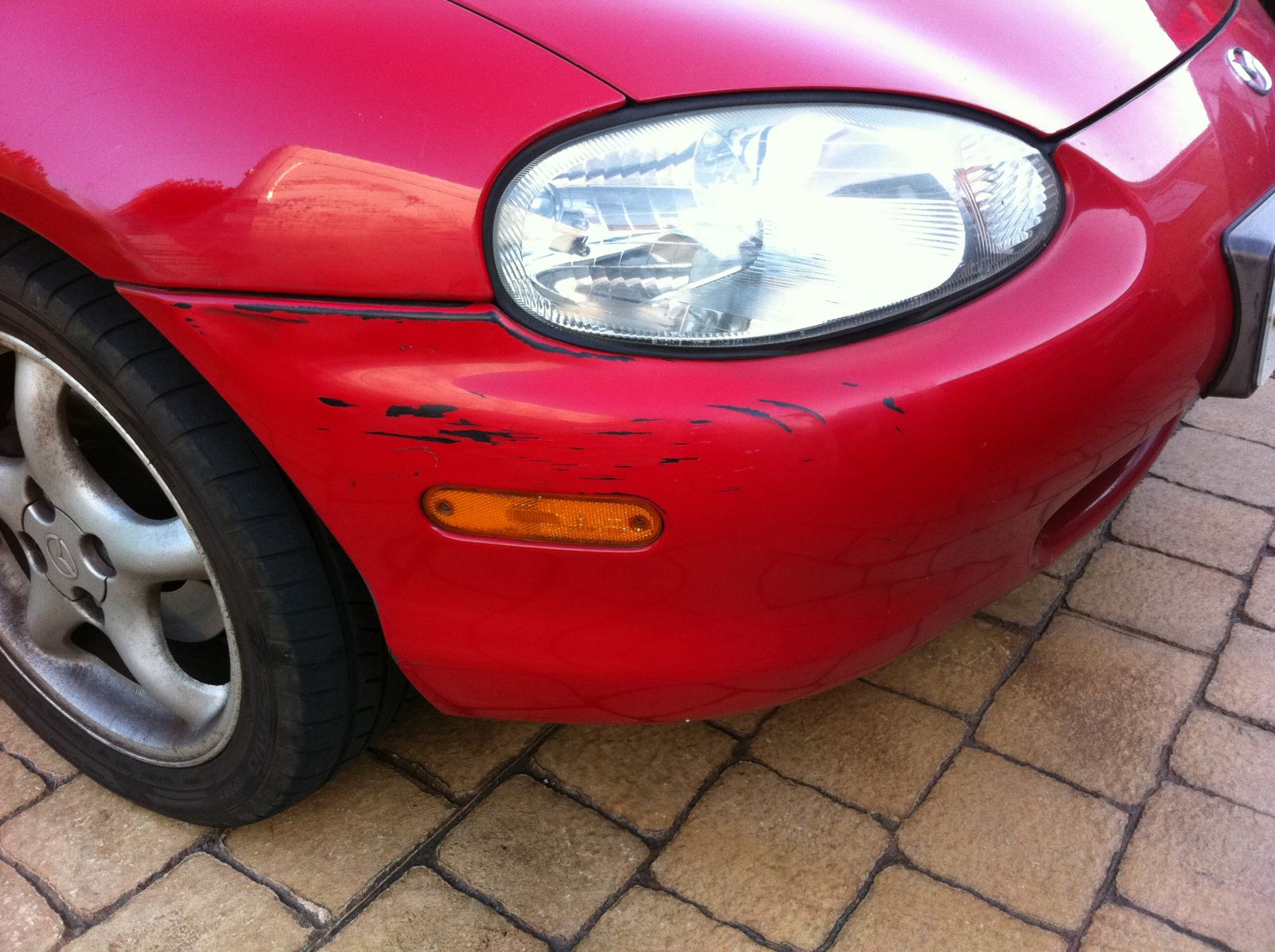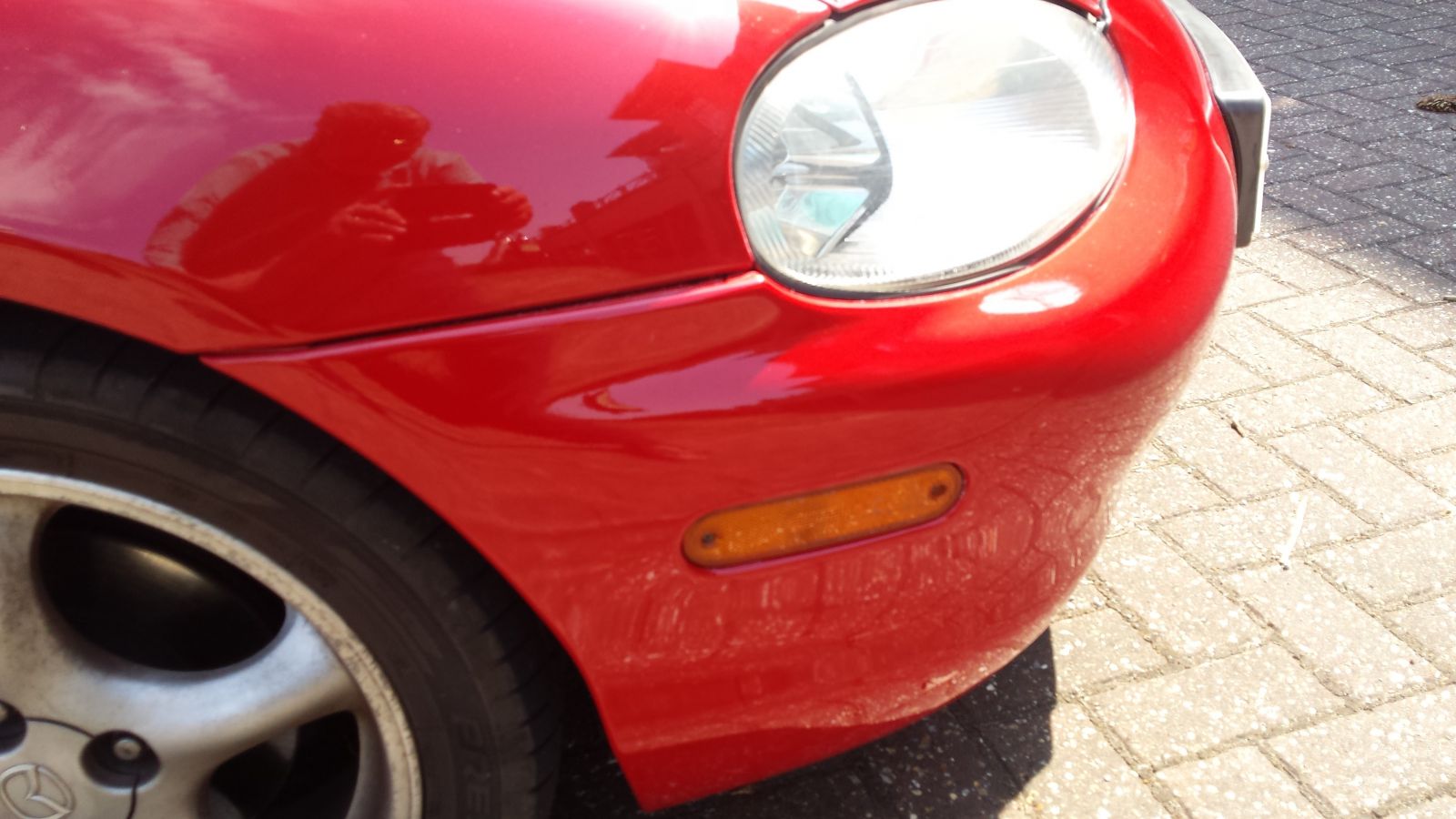 ---
Anne Robson, Midhurst
My Car looks like new again!!
Over a period of years I acquired various scratches and bumps on my Honda Hybrid and decided the time had come to have them all fixed. I contacted Andy in Guildford for a quote and went ahead a week ago. My car's bodywork now looks like new again and to make it all look absolutely perfect I got new number plates too. It's hard to believe my car is now ten years old as it looks super.
Many thanks to Andy, Sean and the team at Chips Away, Guildford.
---
Michael Guest, Godalming
I have had to use Chips Away Guildford a few times, unfortunately! Would thoroughly recommend Andy and his team for first rate work, undertaken in a friendly, convenient and reasonably priced manner.
So if a bus hits you, you know who to call!
---
Rachel Salter Guildford
Everyone at the team was so helpful!! I was even given a lift to where I needed to go and taken back to my car when it was ready. Everyone was so friendly and they did an amazing job and my car looks good as new!! I would definitely recommend them!!
---
A lovely review from Isabel Brandman, today, we repaired a hole in her bumper and a dent in her door on her Audi A3 yesterday
Andy was fantastic from start to finish. His customer service was second to none with excellent communications both by phone and email. The quote he supplied arrived promptly and was very detailed. He won the business on the back of his excellent customer service and comprehensive quote. He turned up 10 mins early on the day to collect my car and brought it back by mid afternoon. All this meant I didn't have to take a day off work. The quality of his work was brilliant, the scratches have vanished completely. It's like magic! Thank you, I would highly recommend Andy.
---
Mr Wilsher, Guildford
Very pleasant experience Andy was thorough and easy to deal with. Had a good and quick repair and would recommend Chips away *****(Five Stars)
---
Great review from a lovely customer, Mark Mcgloughlin in Wormley, Surrey, always a pleasure working for him.
See link below for review on Trustpilot
The Best
This is the second time Andrew and Seann have repaired my DB9.
The work is to such a high standard that an Aston main dealer could not identify where, on the car, their work was done - High praise indeed.
I would 100 per cent recommend these guys.
https://uk.trustpilot.com/reviews/58be90cea912c40a4c554c27
---
A lovely review from one of our customers this week, we repaired his Mercedes B Class including repairing dents and scratches on a door, 2 x wheel arches, bumper and front wing before he hands it back to the leasing company
Ian McCarthy gave ChipsAway 5 stars. Check out the full review...
UK.TRUSTPILOT.COM
---
Another review left for us on Trustpilot
https://uk.trustpilot.com/reviews/588b739084557309d0d17aa1
I highly recommend Andy and his team at ChipsAway Guildford. My car had been badly scratched with a couple of dents, and the quality of work and repair carried out by ChipsAway Guildford was excellent. Excellent communication, fast working, reasonably priced and a brilliant end result.
Jess, Guildford
____________________________________________________________
Great experience with Andy Cornell, Guildford
Everything about this service worked really well.
I'm very happy with the repair - the dent & scratches on my wheel arch, and the damage to my bumper are now gone. Car really does look as good as new. There's no sign that it's been repainted. Colour match was perfect (car is orange)
It was really easy to get a quote - I sent Andy photos and he promptly followed up with a phone call to discuss. Andy collected my car from my home in the morning and bought it back after work. Really nice guy. I'd recommend to anyone.
Helen Miller, Guildford
____________________________________________________________
Dear Andy, I just wanted to say thank you for the excellent job you did on my Volvo this week and for your friendly and courteous help.
I shall not hesitate to recommend you to anyone who might need similar work done on their car. Thank you again and kind regards

Katherine Tuck, Bramley, October
_____________________________________________________________

Andy, thank you so much for everything today and for slotting us in within 24 hours after we had been let down by one of your competitors. Our leased car can now be returned tomorrow in mint condition. The repairs are superb and you would never know it had been damaged. Also, praise to Sean as he was very pleasant and helpful.
Mrs Lord, Guildford
____________________________________________________________

Hi Andy, many thanks for the great job on the car and will be in touch over the next few weeks to book in the alloy wheel repairs

Mr Bishop, Guildford

____________________________________________________________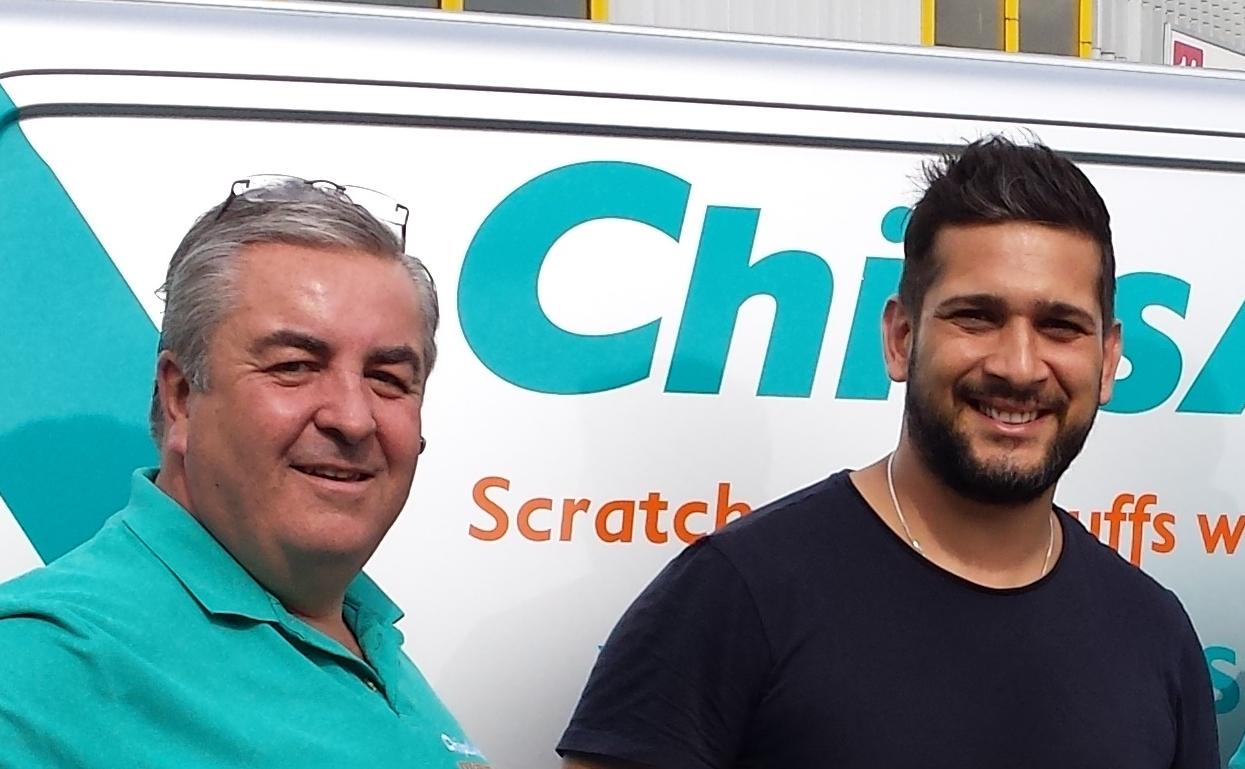 Andy Cornell with T.V / Film Actor Jimmy Mistry
The testimonial below was sent to the CEO of ChipsAway Tim Harris by T.V and Film actor Jimmy Mistry who has starred recently in Coronation Street as Kal the fitness instructor and has also played roles n films like East is East, Blood Diamonds and The Guru to name just a few of his roles.

"Hi Tim, Jimmy Mistry here. Just dropping a line to say that I am extremely pleased with the bodywork that ChipsAway Guildford did on my Audi A4. Not only was the work done on time and to a very high standard but Andy Cornell was a pleasure to deal with. I won't hesitate in using the company again and will recommend to family and friends.

Many thanks

Jimmy Mistry"
____________________________________________________________

Thanks again for doing such a good job, car looks great and as they say you can't see the join, paint match is excellent. Hope I don't have to use you again but if I do it will be with confidence and I shall recommend your services to others, many thanks.

Mr Risbridger, Guildford
_____________________________________________________________
Thanks to Andy Cornell and his team for the good quality repair they performed on my Ford Focus scuffed rear bumper. You dealt with it very professionally and within 3 days of contacting you it was done. It was great to get my car looking good as new again. Andy was very friendly and professional to deal with.

Richard Mills, Guildford
---
I just wanted to let you know that Andy and his team in Guildford completed an excellent repair on my Mercedes this week. Not only was the repair undertaken swiftly at the unit, the efficiency of the whole process and overall service scored top marks in my opinion. Andy was also kind enough to drop and collect me from the local NatWest branch which meant I could also undertake another customer meeting during the repair time too! My father will be requiring some work on his car soon so I have recommended he gets in touch with his local ChipsAway branch and I'm sure he will be just as pleased with the service I received. In today's society, appreciation of service is often forgotten so I thought it only right to let you know how well CA Guildford is serving it's customers.

Tom Barnes, Nat West Bank
---
I just wanted to say a huge thanks to Andy from your Guildford branch for the excellent service he provided this morning. I called him at 8:30 to let him know that my lease car needed to be returned this morning by 10am but had a few scuff marks and scratches on the wheel arch and the door. I drove to the workshop within half an hour and he made the car look like the marks and scratches never existed. I managed to get the car back to the lease depot by 10am and they were very pleased with the condition I handed it back in. Needless to say, I will have no hesitation in recommending Andy to anyone I know who needs this kind of service. He certainly saved my bacon this morning!

Scott Mcintosh
---
Andy and the team have carried out several repairs on my Vito van over the last year and I would highly recommend him to anyone. The work is exceptional and he is very flexible in terms of getting the repairs done quickly as I need my van all the time. The latest repairs were dented front wing and door and bumper scuffs and you cannot see where the repairs have been done. Great service

Darren West, Guildford
---
ChipsAway Guildford carried out repairs to my bumper and mirrors on my Porsche Boxster. The repairs are fantastic, Sean the repairer was very easy to deal with and carried out the work efficiently and to a very high standard, I will be recommending them to anyone I know who needs them. Thanks

Mrs Goodall, Clandon
---
Andy repaired a nasty dent and scratching in one front wing and scratches on the other wing of my Lexus convertiible. The whole process was extremely professional, from the initial contact through to delivery of the completed repair, which was all done at my convenience. The cost was precisely as quoted with no surprises and the repair itself was excellent. I would highly recommend Andy's service.

Paul Ryder, Guildford
A lovely message from a satisfied customer. " Andy thanks so much for the repairs you and Sean did on my Honda Jazz (3 bumper repairs (including pushing out a big dent in the bumper). I am absolutely thrilled with the finished job.

Mrs Cotta, Shackleford
---
Just a short note to say thank you for the work on my car. I was really pleased with both the service and end product; you did what you said you would, and arrived on time. I will recommend your business to others.

Andrew Wigg, Godalming
---
Andy and Sean have between them carrried out several repairs on my Range Rover and my M3 BMW including bumper scuffs, key scratching and polishing. Andy also arranged to have the badly dented tailgate on my Range Rover replaced and re-sprayed at his recommended bodyshop and even managed to source a good condition used tail gate for me at a fraction of the cost of a new one. I was in a hurry to get all the repairs done as I was selling the vehicles. From my original web enquiry I received a call within half an hour and the work was estimtaed the same day. Repairs were booked in for the following week and were all completed to a fantastic standard. Both Andy and Sean were extremely polite, and helpful and all the work was completed to a fantastic standard. I would recommend them every time

Mr Brown, Worplesdon
I recently scratched the bumper and wing on my BMW 5 series two days before I was due to go to Ireland for my son's wedding. I was desparate to get the work done before I went as it was really unsightly and I didn't want the car looking like that at the wedding. I didn't think I had a prayer of getting it done within 48 hours but ChipsAway Guildford came to my rescue. Andy came out the same day to view and quote for the repair and the price was surprisingly good. In addition he did some juggling and agreed to repair the car the next day which was the day before our trip. I have to say the quality of repair is exceptional and the service was absolutly spot on. Andy would always get a hearty recommendation from me.

Mr Major, Merrow
---
What a fantastic service from start to finish. I have just bought a second hand Audi A3 which had some damage to the wing and bumper as well as a few scratches and marks on various panels of the car. I contacted Andy through the ChipsAway website and within 24 hours he visited me and we looked around the car. He explained clearly and concisely what he could do in terms of repairs and gave me a detailed estimate on the spot and all so far for free. I booked the job in straight away and Andy's employee Sean then came out a couple of weeks later and completed all the repairs including a full respray repair to the bumper and front wing. The quality of the work is second to none and I can't stop looking at the car now that is has been returned to its formr glory. An extremely professional freindly and cost effective service and I can't recommend ChipsAway Guildford highly enough

David, Witley
---
Although I was nervous about using a mobile chips and paint fixer, Andy took the time to explain the methods used for the different refurbishments and the likely results. The work was a full alloy wheel refurbishment and some work to the car itself , a BMW 3 series coupe including some scuffs to the paintwork. The result was excellent and I will definitely be using Andy in the future should any future cars I own need a bit of tlc without question"

Sam, Surrey
---
Andy has just finished a repair to my prized Audi R8 and I have to say the repair is superb. I didn't expect it to me as good as it is and I am extremely happy with the work. He has also organised to have all my alloy wheels re-furbished and I am really pleased with all his hard work

Richard, Godalming
---
Andy has just completed a series of repairs to both our cars and I have to say he has done a fantastic job. He has done bumper scuff resprays, touching in and 4 alloy wheel refurbishments and all the repairs have been done to an extremely high standard. The whole process was seamless and very easy from estimate to invoice and the cars now look superb. I would recommend Andy's work highly.

Mr Cade, Merrow
---
Andy has just completed a repair to the bumper of my Audi A4 and I have to say that quality of the work is superb. He has offered a really friendly and efficient service from start to finish and even did a couple of extra bits on the car at no extra cost. I am extremely pleased with the result and the service I received and would recommend him highly

Mrs Fairley, West Horsley
---
I was uncertain of having my Ford Galaxy paintwork repaired at home instead of using a large and costly body works company; but I needn't have worried. Andy provided a first class efficient service and my car looks as good as new, I would not hesitate to recommend Andy to anyone! Thank you Andy

Mr Ashbolt, in Loseley
---
From the moment we contacted Andy he made the process of having our repair done so easy and the quality of his work was absolutely excellent. He was extremely polite and he turned up exactly at the time he promised both to estimate and carry out the work. The process was explained thoroughly and he put us immediately at ease and it made the whole experience so simple and easy for us as an older couple. His attention to detail was superb and he even did an additional repair for us for whilst doing the main repair even though we hadn't pre-warned him and he charged us very little for the extra work. We would thoroughly recommend Andy to anyone and would like to say a big thanks for a great job well done from start to finish.

Mr and Mrs Chivers, Cranleigh
---
Andy, thanks for the excellent job of work you carried out on my XJS Jaguar. The time and care you took to bring it back to new was impressive and I would have no hesitation in recommending you to any other unfortunates who don't take enough care when parking!

Michael Nicholson OBE, Grayswood
---
I am so thrilled with the repair to the bumper scratches on my car that Andy has just carried out, He made the repair so easy, taking the car away, repairing it same day and delivering it back at no extra charge. Couldn't be happier

Mrs Aveline, Merrow
---
I am really pleased with the repair to the scuff on the spolier of my BMW 5 series and the extra bits and pieces you did at no extra charge. I would highly recommend you to anyone. Thanks again,
The repair just carried out by Andy on my Jaguar XF is of the highest standard, I am delighted with the result and would recommend Andy highly

Mr Schlaeppi , Hindhead
---
I am absolutely delighted with the repair carried out on my Volvo XC60, you really cannot tell where the repair ends and the original paintwork starts, great job Andy, thanks

Mr Downs, Farncombe
---
Thanks Andy very pleased with the result, thanks for additional quote, we will think about it after we move.

Dr Ghazanfar, Shalford
---
Just to say thank you very much for the wonderful job you did on our Golf. You can't see the join and the colour and finsh seem spot on.

Mrs Walsh, Guildford
---
Andy, I want to thank you for the great job you have done in repairing my significantly scuffed Honda bumper. The finish is superb and has been perfectly matched to my car's colour. Andy's preparation and application were meticulous, so it was little surprise that the workmanship and finish were of a high quality. Customer Service from first contact was excellent - professional and friendly throughout. Andy Cornell at Chips Away Guildford is highly recommended!

N.Cooper, Hindhead
---
Andy Cornell has just delivered my car back after repairing the front bumper. He was efficient and polite, explaining what work he had carried out and even spent an extra 1/2 hr touching up another scratch I had forgotten to mention! I would definitely use him again and would equally recommend him to others. Thanks Andy!

Andrea Jay, Godalming
---
Thanks so much Andy for the great job carried out on my Mercedes SLK, it is my pride and joy and you have restored it to mint condition.

Julie, Guildford
---
Just to say thanks for the great job you did on my Range Rover alloys, the wheels look great, thanks Andy

Ray,
You can also leave a review on the independent review website, Trustpilot.
Click on the links below to see some of our reviews and image below to get link to our page to leave and read reviews
https://uk.trustpilot.com/reviews/5dd7093ac84545060066bf1e
https://uk.trustpilot.com/reviews/5dd00292c845450918c1df10
https://uk.trustpilot.com/reviews/5dd42fecc845450a34ec0eec
https://uk.trustpilot.com/reviews/5a8ca1c1d27b0a0650d7016a
https://uk.trustpilot.com/reviews/59ef2b72288eb20afc4ab1ee
https://uk.trustpilot.com/reviews/59e0ef87cfcdfc04e8eb4849
http://uk.trustpilot.com/reviews/58be90cea912c40a4c554c27
https://uk.trustpilot.com/reviews/59e0ef87cfcdfc04e8eb4849
https://uk.trustpilot.com/reviews/597a1d96a64b41086cef9196
https://uk.trustpilot.com/reviews/593162f4a02b4205a0c01f84
https://uk.trustpilot.com/reviews/5914060ec22959053c6483ec
https://uk.trustpilot.com/reviews/58c9a92bb0f738049cef5b12
https://uk.trustpilot.com/reviews/588b739084557309d0d17aa1

Our Services: