October 2016 Awards Galore including Franchisee of the Year
Press release from Chipsaway Head Office

In October franchisees from all over the UK congregated at Birmingham Resorts World to celebrate ChipsAway's most successful year to date, and Guildford based franchisee, Andy Cornell, was proudly awarded both the Franchisee of the Year 2016 AND the Business Mentor of the Year, for the third year in a row!
The Franchisee of the Year award is the most coveted award by all UK-based ChipsAway franchisees.
The nominees and winner are meticulously decided by the team at Head Office, based upon a wide range of factors, such as hard work, growth, customer service and more.
The Business Mentor of the Year is determined by ChipsAway franchisees, where they decide which individual has been most valuable to them in terms of ongoing support and training. Andy tells us a little more about what it means to him to win these awards:
"It was fantastic to be awarded Business Mentor of the Year for the 3rd year running at this year's ChipsAway Conference and Awards dinner. "It is a great pleasure to help ChipsAway's new starters and to also help existing franchisees grow, expand their businesses and to see them succeed.
I think it is a testament to the brand that so many people develop and build successful new franchises across the country each year.
"To then also win Franchisee of the Year 2016 really was the icing on the cake for me. At ChipsAway Guildford we strive to exceed customer expectations at every stage of our contact with them. I would like to thank my team for all the hard work they put in to help make my business so successful and also thank our customers for their confidence in us.
" Throughout the year, Andy has worked exceptionally hard to manage a Car Care Centre, a mobile repair service and a team of technicians, and to ultimately run a fantastic business in Guildford.
He embodies the key values of the ChipsAway brand by delivering exceptional quality repairs, outstanding customer service and offering incredible support to the rest of the network. CEO of ChipsAway and ChipsAway's parent company Franchise Brands, Tim Harris, believes that Andy is a worthy winner of both awards:
"Andy is a credit to the ChipsAway brand, which is why he was not only named ChipsAway franchisee of the year, but also won Business Mentor of the year for the third year in a row!"
"He is extremely hard working and focused on delivering meticulous car body repairs, which is why his business has flourished over the last 5 years into an extremely successful, multi-van operation. "As well as operating a fantastic business, Andy also does an incredible job of supporting the business development of his fellow franchise owners and helping them to succeed.
This is why Andy is such a worthy winner of the Franchisee of the Year 2016 and is held in such high esteem by Head Office, his employees and his customers.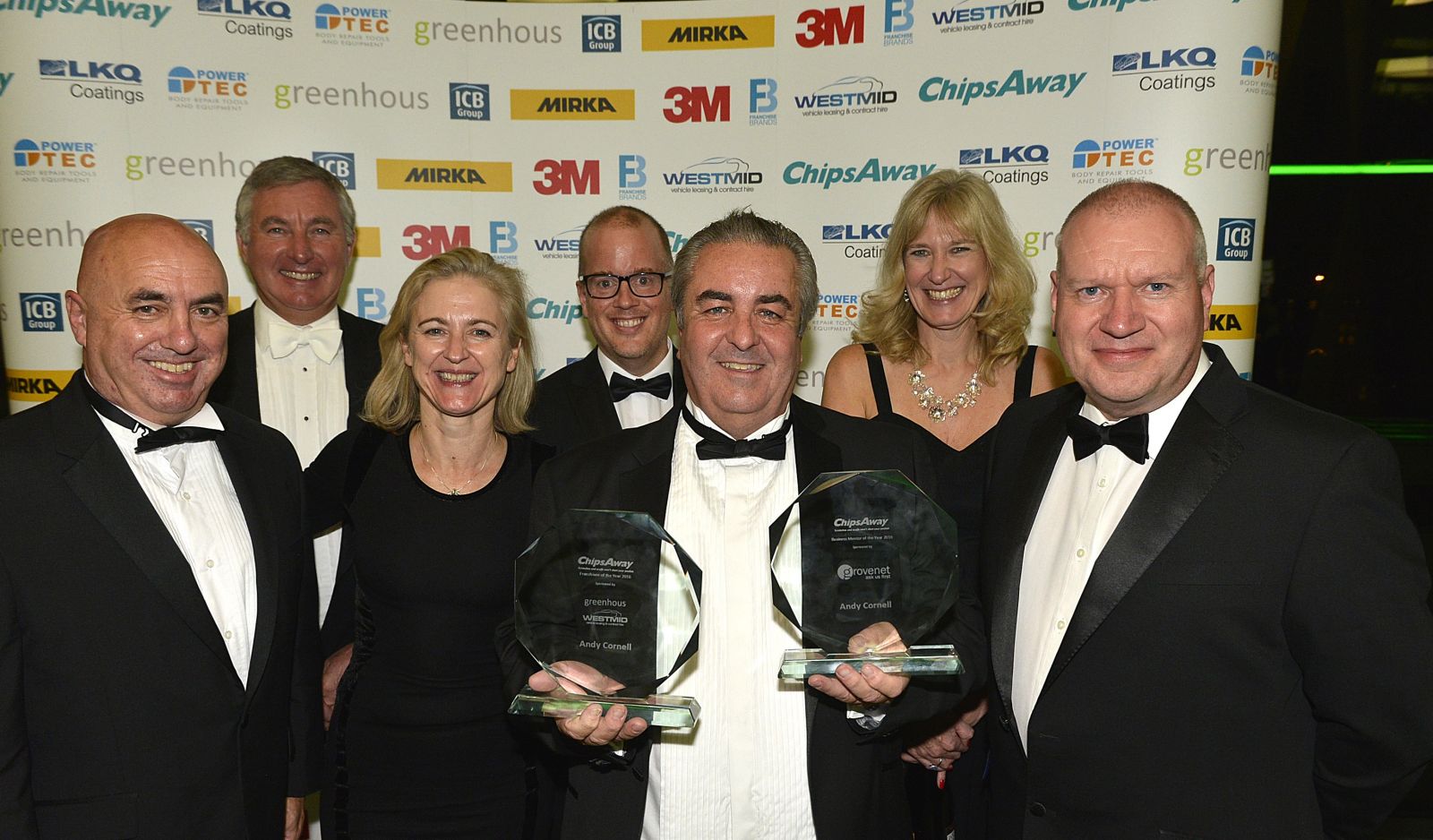 Our Services:


Customer Testimonials
Here are just a few of the many comments received from satisfied customers : 2018 Joe Hurst, Guildford Repair to Alfa GTV with paintwork peeling paint on whole of offside quarter panel Hi Andy. Just wanted to say thanks for yesterday.   Your tech has done a great...
Read More
---